YOU'RE NOT 100 YEARS OLD EVERY DAY!
2023, sept 30. Dead on time!
An exact replica of 1923 grand inauguration, 100 years ago.
A chronicle of a magnificent day in perfect symbiosis in the Vallée de l'Homme,
in unison with the Musée anchored on the cliff.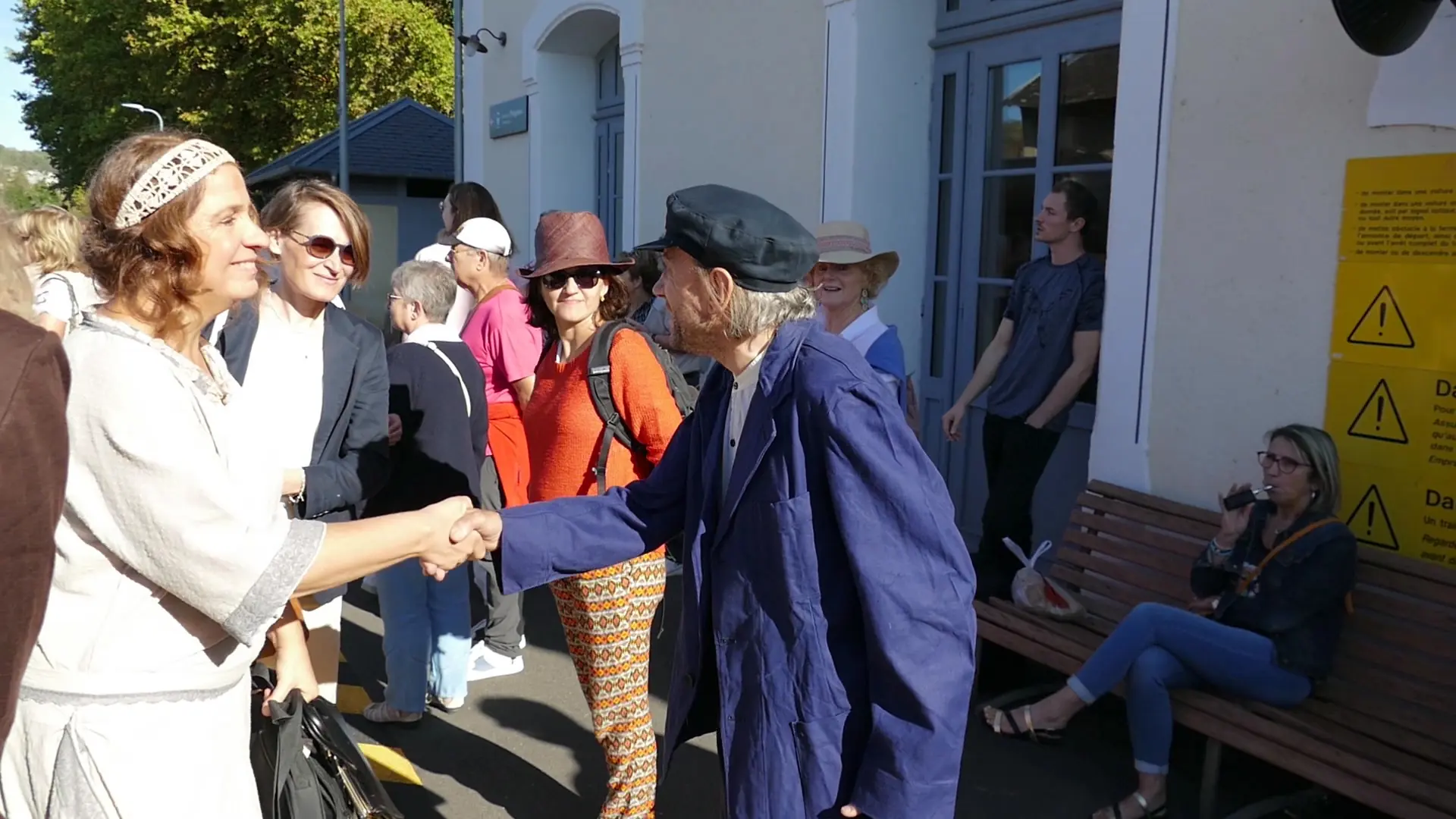 LES 100 ANS DU MUSÉE NATIONAL DE PRÉHISTOIRE DES EYZIES
Reporting: Sophie Cattoire & Vincent Lesbros – Ferrassie TV
The celebration of the Centenaire du Musée National de la Préhistoire in Les Eyzies was a great success because it was very well thought out in advance. The people who organised it called upon the appropriate skilful collaborators. Nathalie Fourment, Docteur en Préhistoire and directrice du Musée National de Préhistoire, thanked them warmly when delivering her historical speech. She had a brainwave, a very bright idea: chartering a steam locomotive dated of the time the Musée National was created in the old village Les Eyzies de Tayac. It carried away the crowd, thrilled to hear that old train whir and whistle in the Vallée de la Vézère. The program for that very special anniversary day was rich and varied: visiting public and private prehistoric deposits, guided by the expert lecturers from the Centre des Monuments nationaux, rediscovering the collections of the Musée decrypted by the students of Bordeaux Universirty prehistory department, film projections in the auditorium, and meetings with the scientific team of the Musée, particularly round the corner of the new path outdoor, giving new and due attention to the cliffs and the ancient « château-musée », one of its oldest exhibition rooms having been carefully reorganised.
En avant goût, pour nous replonger un siècle en arrière, fut imaginé et mis en scène par Christian Taponard, avec le conseil scientifique d'Éléonore de Castro, un parcours théâtral et musical de la gare au musée, restituant l'émerveillement des gens il y a 100 ans, voire même 150 ans, lorsque la Préhistoire repointa vaillamment le bout de son nez sous les coups de pioche des grands travaux entamés dans la seconde moitié du XIXe siècle. Un spectacle interprété avec émotion et intensité le long de la falaise et intitulé : « Le 30 septembre 1923 aux Eyzies ou La Folle Journée - Impromptu théâtral en déambulation pour une commémoration. »
As a foretaste, just to make us plunge back into a century, a musical and theatrical journey from the station to the Musée was conceived and staged by Christian Taponard, with science advisor Eléonore de Castro, rendering the wonder felt by people 100 and even 150 years ago, as Prehistory bravely showed up again, under the pickaxe blows when the major works started in the second part of the XIXth century. A live show performed with emotional intensity all along the cliff, entitled: «  Le 30 septembre 1923 aux Eyzies ou la Folle Journée – Impromptu théâtral en déambulation pour une commémoration. » (« sept 30, 1923 in Les Eyzies or The Extraordinary Crazy Day – A wandering theatrical Impromptu for a celebration »), in front of him.